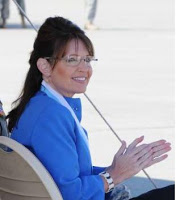 Now a judge whom Women on the Web has described as "decidedly progressive" has turned into a "moderate independent", according to a pro-Palin site, which also helpfully titles its piece "The Final Word on Palin's Supreme Court Pick."

A "moderate independent" would be news to the Daily Beast's Elaine Lafferty who reports that "feminists should be happy" over "Sarah Palin's shocking choice".

A "moderate independent" would also be news to the Leftist site NewsHoggers, which states:


.... it appears she has given the proverbial finger to the 16th century Bible thumpers.... She can see which way the wind is blowing and it's not favoring the knuckle dragging base of the Republican party. The rest of the party may figure it out by 2012 which will leave Sarah in a really good position.
And finally, a "moderate independent" would be news to
Let's Go Girl
:
There is no disputing Palin's appointment of Christen will cause the Alaska Supreme to lean left and will ensure a more activist court when it comes to gay marriage, and abortion. The Christen appointment is key because she replaces justice Warren Mathews, one of the dissenting votes striking down the parental consent legislation.
But enough with the Left's glee over Palin "moderate independent" pick.
Onto more conservative consternation turning into dismissive defensiveness.
The Washington Times offers the headline today, "
State Law gives Palin no choice but pro-choice
", even while ultimately acknowledging Palin could have fought for more judges to choose from.
Pro-life bastion LifeSiteNews is also taking a punt on the issue.
"
Between a rock and a hard place: Alaska Law Gave Palin a Choice between Two Pro-Abort Judges
".
Again, the headline misleads while correcting itself in the copy; acknowledging Palin could have asked for more choices.

If Judge Christen does, indeed, have a hand in striking down more parental consent legislation, Palin supporters will need more than the rote response they got from SarahPAC regarding her pro-abortion pick:


"Gov. Palin is totally pro-life. Always has been. Always will be. She believes in a culture of life from cradle to grave."

Except when asking for more choices costs too much political capital.

Otherwise, totally cradle to gave.