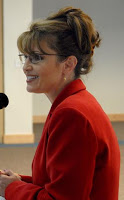 Tomorrow, Yankee star Alex Rodriguez will meet the media for the first time since he admitted using steroids, and when he does, he'll have the same communications firm that guided Sarah Palin through her run for VP at his side.
The group,
Outside Eyes
, describes itself, among other things, as an outlet that provides "media strategy, brand development, and crisis management to clients in many industries".
NJ. Com
:
These are heavy-duty flacks, trained in dealing with political scandals and celebrity disasters. Two of its founding partners have experience in the Bush White House. Just a few months ago, Ben Porritt was a spokesman for the McCain campaign, handling Sarah Palin.

Porritt, who did not return phone calls Monday to discuss his latest client, was the one who answered questions on cable news network MSNBC to defend Palin when the vice presidential candidate insisted that the First Amendment should protect her from attacks from the news.
More on
Ben Porritt
.