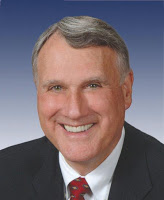 To provide some background, our Feb 26 post re: Arizona Sen. Jon Kyl's screening of a controversial documentary.

What: Fitna, 17 minute long documentary which links Islam and the Koran with violence. You can watch the video here.

Where: L.B.J. Room in the Capitol.

Who: Sen. Jon Kyl.

Why? The show's producer:


"I don't hate Muslims — I hate Islam."
The New York Times
on Kyl's shindig:
Other than Senator Kyl, it was unclear who else would be attending the screening.
FAST-FORWARD TO POST-FITNA SCREENING
:
Who showed up?
NRC Handelsblad
:
.... just before the doors closed, Jon Kyl appeared. But a few moments later the doors reopened and he was gone again.

The organiser of the event strode out into the hall. Kyl's spokesman could not explain why the senator had missed the screening, but according to Brim it had to do with president Obama's budget presentation. "The senator had to go to the White House.
With no host, can there be guests?
Asked by the Dutch press which members of Congress had attended the screening, Wilders was lost for words.

"The names are secret," said Brim after the screening. But Gaffney eventually came up with two: the unknown Roger Wicker (Mississippi) and Ed Royce (California).

What did he think of the turnout? Members of Congress are busy on the day the budget is presented, he replied. "And this was literally the only time Wilders had to see us."