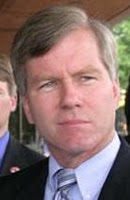 Bob McDonnell accepted the Virginia Republican party's gubernatorial nomination today in a speech that was heavy on jobs, the economy, and energy; and light on the social issues Democrats will try to use against him.

The AP:


There was only scant mention of the Roman Catholic McDonnell's career-long opposition to abortion and his support for gun rights, but both drew wild ovations.
Possible (likely) general election foe,
Terry McAuliffe
, released a statement after McDonnell's speech, warning Virginians that what you hear isn't what you'll get.
"They've all tried to hide his long divisive ideological record, and portray him as someone who now is a moderate."