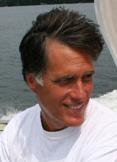 So who's cute and not influential now?

People Magazine named Mitt Romney a most beautiful person in 2002, and included these clips in the blurb.

Cindy Gillespie, a colleague on the Salt Lake Organizing Committee.


"Nothing embarrasses Mitt more than when someone says he's good-looking."
Olympic skeleton gold medalist Jimmy Shea
"I'd be really excited to look like him when I get to be his age."
[Hat tip:
Boston Globe
]