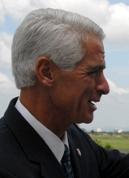 Apparently, Charlie Crist contacted billionaire businessman, Tom Golisano, for financial support, and was turned down because Golisano himself might also run for Florida's Senate seat... as a Democrat.

Politics 1:


Sources tell Politics1 that billionaire businessman Tom Golisano -- a former three-time Independent candidate for New York Governor -- is now contemplating a Democratic run for Florida's open US Senate seat.

Golisano, who owns homes in both New York and Florida, recently switched his residency to the Sunshine State. The New York Times also reported Golisano was the driving influence beyond the recent New York Senate leadership coup which three the body into turmoil.

Governor Charlie Crist (R) contacted Golisano last week to seek his financial support for Crist's Senate campaign, but was politely rebuffed.
[Hat tip:
Syracuse.com
and a reader]