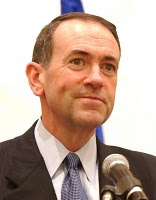 Tim Pawlenty's headed to Mike Huckabee's Arkansas tonight to headline a fundraiser for Arkansas Republicans.

Last year, Mark Sanford headlined the dinner, and earlier this year Bobby Jindal visited the state.

Huckabee replied to the notion that the potential 2012 foes are encroaching on his territory.


"Heavens no. They're my friends and colleagues. In fact, I did a welcome video for Gov. Pawlenty.... I don't have a political turf. Unless they want to host a show on Fox News on Saturdays, I'm cool with it."
For his part, T-Paw also scoffed at the idea of a looming rivalry.
"I haven't decided anything about my future, and I suspect he hasn't either. That would be getting way ahead of ourselves to be talking [about] me viewing him as a potential rival."
UPDATE
: More details about the event
here
.