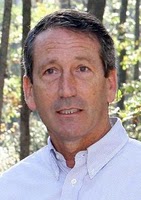 A Rasmussen poll shows 46% of South Carolinians want their governor, Mark Sanford, to resign, with 39% saying he should remain governor.

But if Sanford chooses not to resign, voters don't want the state Legislature to do it for him. 48% think he shouldn't be impeached, and 40% think he should.

Perhaps the most surprising number is that 55% of voters think Sanford is "about as ethical as most politicians".

You wonder how they're explaining this to their children.