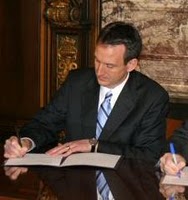 Minnnesota Gov. Tim Pawlenty sent a letter (pdf) today to members of Minnesota's Congressional Delegation, slamming the Waxman-Markey climate bill.

Among other things, T-Paw claims the bill would...

a. raise electricity rates by 90%, adjusting for inflation.

b. raise an average family's yearly energy bill by $1,500.

c. destroy more than 1 million jobs on average.

Pawlenty's known as one of the GOP's greenest governors, and during the heat of the Veepstake rumors, Bob Novak came out with a famous column in which he excoriated T-Paw for a greenhouse gas emission proposal.

More recently, Pawlenty expressed openness to a pilot program in Minnesota that would test the idea of charging drivers for each mile they drive. That raised the considerable ire of conservatives like Ed Morrissey.

In early January, Pawlenty appeared in a vid promoting his work for the environment, and you get the sense he's quite proud of his reputation for leaning somewhat further left than many of his colleagues on those issues.


Renewable Minnesota from America.Gov on Vimeo.
Considering the context, then, environmentalists are taking today's story and running with it,
claiming
that T-Paw's abandoned his fealty to the environmental cause, even though
Waxman-Markey
achieves its intended goals through far different means from what Pawlenty's supported in the past.