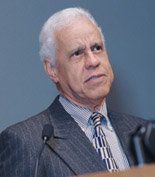 Those words are from Jonathan Martin's new story on the lengths to which the Democratic party is trying to inch former VA Gov. Douglas Wilder toward supporting its nominee, Creigh Deeds.

And yes, if there's one word describing the process, it would be courtship (if you wanted a baseball analogy, think of Wilder as K-Rod and the Democratic party as off-season LA Angels management).


He [Wilder] pointedly noted that he had not yet met with Deeds — though he is scheduled to — while [GOP nominee Bob] McDonnell has come to court many times.

"I've talked to him a lot," Wilder said of the Republican. "He's called a lot. We've had lunch, we've met. He's not slow."

And Wilder took a similar swipe at the state Democratic Party, saying he had not heard from its high command.

"I'm right here in Richmond," he said with a chuckle. "I thought the party headquarters was in Richmond."
When fall comes to 2009, though, it's hard to imagine Wilder not supporting Deeds.
If he were to party-hop to McDonnell, his cache within the Democratic party would likely diminish, and he'd run the risk of becoming another Colin Powell.
And which political figure wants that?
UPDATE
: Here's
vid
from late May of McDonnell speculating on the possibility Wilder might endorse him.