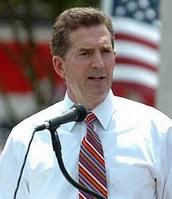 Ben Smith catches a defiant SC Sen. Jim DeMint.


"Senators and Congressmen will come back in September afraid to vote against the American people.... this health care issue Is D-Day for freedom in America.

If we're able to stop Obama on this it will be his Waterloo. It will break him."
That brings to mind Ryan Lizza's
profile
of Pete Orszag back in May (ea).
At the core of both the stimulus bill and the Obama budget is Orszag's belief that a government empowered with research on the most effective medical treatments can, using the proper incentives, persuade doctors to become more efficient health-care providers, thus saving billions of dollars.

Obama is in effect betting his Presidency on Orszag's thesis

.