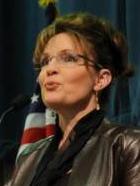 This isn't a knock on her.

If you want a knock on her, read Mike Murphy's newest. If you want a defense of her, read Jennifer Pozner.

But by now, there's nothing left to be said about Palin's decision, except perhaps from a dying Albert Einstein.

While looking back on his remarkable two decades in America, and the push and pull that had marked it, he wrote a friend (from Walter Isaacson's bio, page 537).


God's own country becomes stranger and stranger, but somehow they manage to return to normality. Everything -- even lunacy -- is mass produced here. But everything goes out of fashion very quickly.
Whatever your take, "lunacy", "mass-produced", "fashion", and "very quickly" can all be ascribed to the Palin phenomenon, either from opponents or supporters.
If she's a fashion, she'll fade. If she's not, Andrew Sullivan will shoot himself in the head. That's all we really know, at this point.