LifeNews (ea):


The battle over persuading Governor Charlie Crist to appoint a certain person as the replacement for a the open seat on the Florida Supreme Court continues. There is a vacancy created by the resignation of the central Florida seat previously held by Justice Charles Wells.

....

A coalition of pro-life groups want Crist to pick Judge Alan Lawson for the vacancy, while abortion advocates, led by Planned Parenthood, are lobbying for either Judge [James] Perry or Judge Debra Steinberg Nelson

.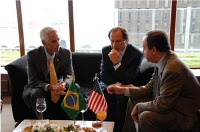 Charlie Crist is distrusted among some grassroots, social conservatives outside of Florida, a reputation mostly undeserved. His first two Supreme Court nominations were
pro-life conservatives
, and he
opposes
gay adoption.
But last month, he appointed a third justice to the Florida Supreme Court, one that could have tipped the balance to the conservative side. After months of left-wing warnings against conservative judge Frank Jiminez, Governor Crist backed away and picked
Jorge Labarga
, a relative unknown who admitted to
law.com
:
"A good judge, in my opinion, is one who is all over the place. I'm all over the place."
Conservatives weren't happy campers --
National Review
lamented, Red State railed in an action alert, and
Human Events
pulled out the RINO lable. And at the time,
we noted
:
Unfortunately, Crist bowed to the pressures of the Left and appointed a judge of questionable temperament and uncertain judicial philosophy. This was a chance for Crist to shift the court's balance of power, and anytime a conservative fails to push in that direction, it sends a powerful symbol to the party's base --

you can't count on me for judges

. And if there's one thing the conservative base wants, it's conservative judges.
Now Crist has his 4th appointment to make.
The Bradenton Herald
speaks of its historic nature:
The latest vacancy will give Crist an unprecedented opportunity to appoint a majority of the Supreme Court in his first term. It'll also be the first time a majority has been appointed solely by a Republican governor in the 32 years since Florida stopped electing justices.