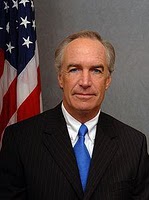 If Dirk Kempthorne becomes a legitimate Presidential threat, he'll face one major problem, and it doesn't have anything to do with his bathroom.

It's that the supremely-accomplished former mayor, governor, senator, and out-going Sec of the Interior has built a record the past few years consisting of stories like this.


The humble shack that became the centerpiece of conservationist Aldo Leopold's "A Sand County Almanac" has been granted National Historic Landmark status.

The converted chicken coop and the farm on which it stands received the designation from outgoing Interior Secretary Dirk Kempthorne before he left office in December.
Fast forward to 2012's primary season, when Gov's Tim Pawlenty and Charlie Crist are talking about resolving billion dollar deficits in a debate, and the
What Have You Done Lately
? question comes to Kempthorne.
I saved a chicken coop.
One more thing: if you're a trust-but-verify kind of person, you can see a picture of the chicken coop
here
. Or you could just wait until Kempthorne starts his PAC, and the rescued coop invariably takes center stage on his home page.