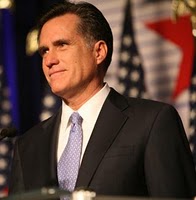 a. The Hill. "Romney to the Rescue"

b. Huffington Post. "Romney Doles out Checks to Republicans targeted by DCCC Ads"

c. ABC's The Note: "Romney to the Rescue?"

d. USA Today: "Romney to the Resuce"

e. GOP12: "The Largesse of Mitt Romney"

f. CNN: "Romney's PAC Writes Checks to 11 of the Undaunted Dozen"

g. Boston Herald: "Romney helps stimulus foes"

h. Politico: "Romney writes checks to House Republicans"

i. The LA Times: "Mitt Romney backs GOP stimulus detractors with his PAC money"

j. Roll Call: "Romney PAC Aids Targeted Republicans"

Price: $1,000 per head. Headlines: Priceless.