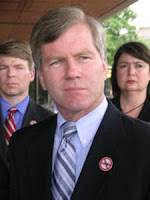 A new profile of GOP Virginia gubernatorial hopeful, Bob McDonnell, includes this nugget:


"Cardcheck," the controversial union-backed measure that would end the secret ballot in union elections, is something that the Obama White House and Democratic leaders in Congress want badly -- and that the three gubernatorial hopefuls will almost surely have to weigh in on.



In a right-to-work state, observed McDonnell, "that can't help them too much.

"
(ea) As an aside, even Virginia's newly-minted, Democratic Senator
,
Mark Warner
, doesn't appear to have the capital necessary to pull off support for card check.
Politico
, Feb. 25, 1009:
Business groups, who are fiercely lobbying other Democratic moderates, believe that Virginia Sen. Mark Warner and new Colorado Sens. Michael Bennet and Mark Udall could also be persuaded to oppose the bill.
None of McDonnell's potential opponents (Terry McAuliffe, Creigh Deeds, Brian Moran) have publicly stated a position, but a
clue
to Moran's sympathies may lie in a vote his brother, Rep. Jim Moran, cast in 2007 to support The Employee Free Choice Act (i.e. "card check").
Like brother, like brother?