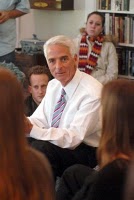 Now this is the
Charlie Crist
we've heard so much about: consensus-builder, and get things done-er.
Over the past, few months, there's been a
bit of controversy
in Florida over the use of a trust fund set up in the name of late Governor Lawton Chiles.
Governor Charlie Crist has advocated taking some of the $ and using it to help patch up Florida's $2.3 billion deficit, while the Chiles family has fought vociferously against any use of the fund beyond its original purpose -- paying for child welfare, anti-smoking programs, and other health care initiatives. The Chiles family has gone so far as to threaten suit, while leading a popular
petition drive
slamming Crist's plan.
Now it appears Crist has led a tenuous consensus: Florida can take some of the money, but only if the state pays it back with funds from the anticipated federal economic stimulus package.
Steve Yerrid, an attorney who helped start the Chiles Fund, is
satisfied
with Crist's promise, but wants it in writing, and is urging Florida Democrats and the Chiles family to support Crist's proposal.
"Those are major concessions."
Major concessions that, nonetheless, contribute to Crist's strategic plan, while limiting the broadside on his flank.