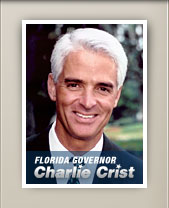 Last month, Florida
Gov. Charlie Crist
proposed $565 million in cuts; now lawmakers are looking to cut $1 billion.
A few changes in the way Florida does business
:
a) Raising court filing fees.
Even if this leads to fewer legal cases, at least it helps preserve the judicial system in Florida from imploding.

b) Streamline education programs.
This would grant schools more freedom in using state dollars as they see fit. The idea is that local schools would spend the $ more efficiently.

c) Tapping trust and rainy day fund
s
.
As far as a proposed hike in the cigarette tax, Crist and his party remain intransigent. It's odd seeing an apparently traditional Republican like Mississippi
Gov. Haley Barbour
actively back a hike in the tax, while a reformer like Charlie Crist opposes it for his state.